After took the train Frankfurt sud to Berlin. Finally I arrived Berlin at 6:30.
But I didn't know what to do. So I stayed Berlin station for 1 hour.
I ate my bread and juice and I thought I have to go my hostel in Berlin.
My hostel was Generator Hostel in Berlin.
That was the my first time to use Generator hostel after that I use it in London, Barcelona.
So I arrived at Generator Hostel. But I couldn't check in there because my check in time was 14:00
But I arrived at 8:50? So I stored my luggage in to Luggage store.
And then I got a gooooood news in there.
I can take the free guide in Berlin!
I had to go Brandenburg gate until 10'o clock. When I arrived there. There were a lots of people in there.
One guide Mark was waiting me. He said that he was born in U.K but He fascinated with Berlin history.
Now he has lived here. I felt awesome anyway We were proceeding Berlin historical tour.
We saw many thing in there and I heard about the 20c history.
Berlin was the important place in history.
So Berlin tour was taking 3~4 hours. Frankly I felt asleep in there.
Because I was taking night train so I couldn't sleep well. 그냥 이것은 핑계입니다.
and then I met destiny girls in there!
Jessica and Kayliegh. They are my first Ireland friend. We took Berlin Guide together.
I talked them. "Shall we go together Berlin?"

They said "Okay!!!"
We went Berlin Sausage museum together.
소세지 박물관에서 가서 소세지를 먹고 알아듣기 힘든 영어로 그냥 구경하고 그래서 생각을 한건데 내 영어가 굉장히 모자르다는 생각을
했다. 지금도 영어 집중을 해서 들어야지 어느정도 알아듣고 그냥 넋놓고 있으면 한국어처럼 들리는게 아니라 그냥 지나가기 때문에
열심히 공부를 해나가자.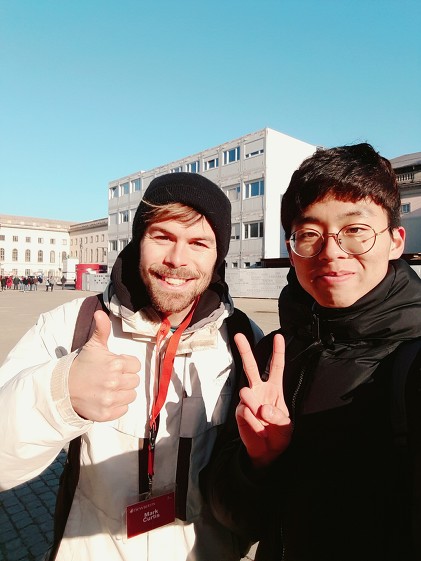 베를린투어를 진행해주신 Mark선생님, Free tour Guide Mark.
His historical telling was really amazing.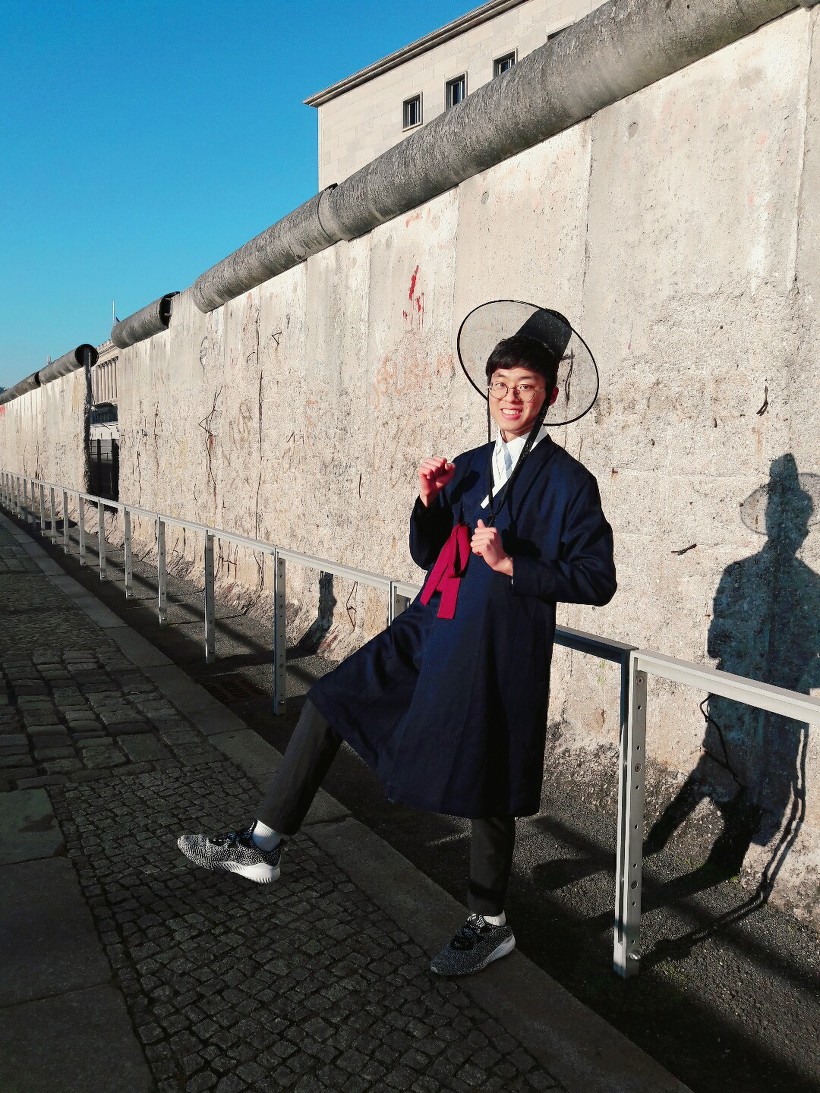 In front of Berlin wall.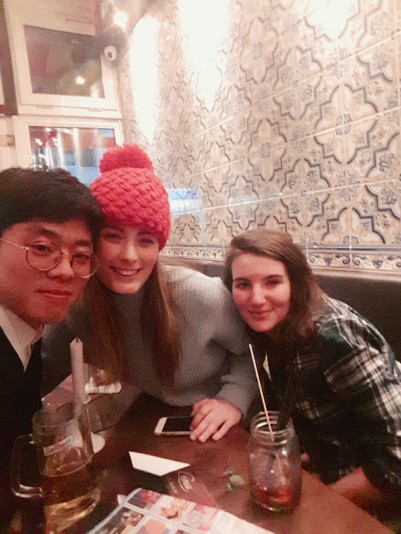 briskeen, Jessica, Kayleigh

briskeen: only 1 beer
Jessica: !@#$!@#$ mohito
Kayleigh: !@#$!@#$$ mohito.
Ladies were gooooood at alcohol.
I like them and we promised meet later.
#Episode 1.
We went pub together and I drunken fast but I just dranked only one jar.

So They took me to half of my way on the other hand I woke up strange station.
Maybe I slept on subway for a long time.
Thank you to Jess & Kayleigh. 제시카와 케일리 짱 좋아요 ! 최고! 짱! 이러면 jessica& Kayleigh 모르겠죠?
I was glory to meet you.
제시카랑 케일리랑 같이 술집에 갔었는데
제가 가장 먼저 술에 취하고, 그녀들이 저를 호스텔가는 중간역까지 바래다주고 집에갔어요.
얼마나 고마웠는지, 다시금 제가 술을 얼마나 못먹는지 깨닫게 되는 하루가 되었습니다.
그런데도 저는 이상한 베를린 서쪽역에서 일어나서 호스텔까지 가는데 한시간 가량 걸렸던것 같습니다.
술조심해야지. 실제로 한국에서도 제 주량은 맥주 한잔 혹은 소주 3.5잔 이긴 한데 절대 안 늘어나네요.
어쨌든 제시카랑 케일리 짱 좋아!!!
memorial to the murdered jews in europe
마크 선생님께서 추모비의 높이가 제각각 다른것에 대해서 각자 생각해 보라고 하셨는데
내가 생각하기에는 그들이 느꼈던 고통을 형상화 하고자 했던 게 아닐까 라는 생각이 들었다.
실제로 보면 굉장히 숙연해진다.
베를린판은 영어를 많이 썼네요 그런데 초등학교 2학년 수준이다.
언제쯤 중학교 진학할 수 있을까요?